Lisbon: local transport
& public transportation system

If you want to travel around Lisbon quickly and easily, you should use public transport. Compared to other major European capitals, the use of the public transportation system in Lisbon is relatively cheap.
Lisbon has a dense and very good public transport network. You'll travel comfortably and fast with the modern metro which is kept simple with its only 4 lines. More than 100 bus routes and, in addition, the 5 tram lines plus uncountable taxis cover the rest of the city. Walking can turn into a strenuous exercise, however, since the city is very hilly.
You can easily and comfortably get from the airport to Lisbon's city center via the airport line of the metro (subway) or via the AeroBus.
For a better overview and orientation:
Download: city map with local public transport network in Lisbon (*.pdf 1.2 MB – as of 2019)
Tickets, tariffs, and pricing – Which ticket option is best for me?
It makes a lot of sense to briefly familiarize yourself with this topic prior to your trip. After arrival, your vacation time is too precious to waste at ticketing machines and information counters.
Here we will show you how you can quickly navigate the tariff system and save time and money with the right ticket.
There are two major companies in Lisbon that operate the public transport system:
The Carris (Companhia de Carris de Ferro de Lisboa) operates most of the bus lines, trams, and elevators.
The company Metropolitano de Lisboa, EPE reigns over the metro (subway).
Both companies offer single tickets, multi-tickets etc. A single ticket for the metro as well as for bus or tram costs 1.50€ at the ticket machine (as of 2020). From time of validation, this ticket is good for one hour.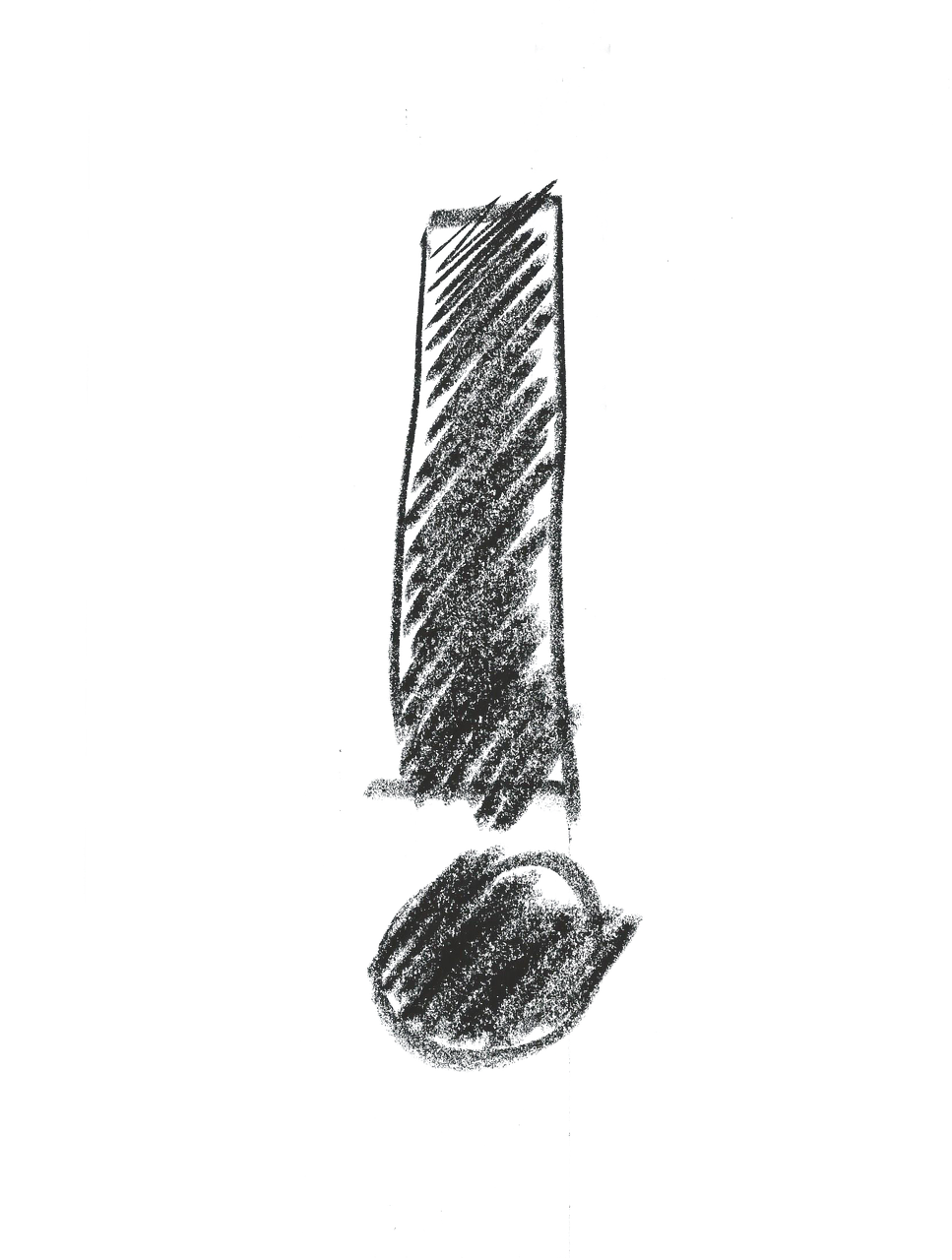 Attention: since there are two transport companies in Lisbon that operate the local transportation network, tickets exists that are only valid for one or the other
You can avoid a problem by using the "Lisboa Card" or the "Viva Viagem Card", for example, both are valid for both public transport companies. Here, we will introduce the two companies to you.
Tip: LisboaCard (Lisbon Card) – combination card for sightseeing and public transport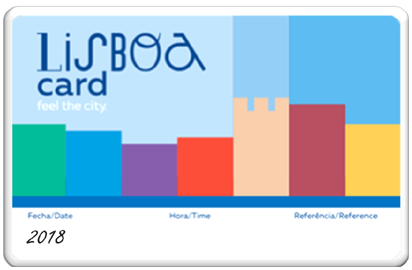 If you are planning on visiting some of Lisbon's sights, then the official sightseeing-card "Lisboa Card" would be of interest to you.
You will be able to use the entire public transport system in Lisbon without restrictions:
Metro – including airport line
City bus
Tram including historic tram 28E (Eléctrico 28E)
Train to Sintra, Belém and to the coastal towns of Cascais, Estoril (day trip to the beach)
Funiculars and the elevator "Elevador de Santa Justa"
You won't have to pay attention to who the operator of the local transport is.
You will receive free admission to more than 25 sightseeing highlights (as of 2019) and a 10-50% discount at other attractions.
The Lisboa Card is available with different periods of validity (24h, 48h or 72h) – beginning at time of first use.
Pricing for the Lisboa Card (2019 / 2020):
24 hours: 20€ adults, 13€ children (5-11 years)
48 hours: 34€ adults, 19€ children (5-11 years)
72 hours: 42€ adults, 22,50€ children (5-11 years)
Our conclusion for the Lisboa Card: for whom is a purchase beneficial?
The Lisboa Card pays off if you are planning on visiting many of the attractions and sights in Lisbon since you will receive free or reduced admission with this card.
Since you'll be able to use public transport easily and free of charge, it will save you time and hassle locally. You won't have to worry about tickets and ticketing machines while you are there.
You can purchase the Lisboa Card ahead of time via this website and without a surcharge – click here. That has multiple benefits:

You can research offers and discounts in advance and at your leisure. That saves time and avoids stress later.
You can pick up the card directly at a counter at the Lisbon airport. You will be able to hop onto a bus or the metro upon arrival without having to worry about purchasing the right ticket first.
7 Colinas Card, Viva Viagem, Lisboa Viva and Zapping – for Carris (bus, tram…) and metro
The "7 Colinas Card" and the "Viva Viagem" can be used on the buses and trams of the Carris as well as on the Metro.
Both cards serve the same purpose and only differ in name and design. They are rechargeable, cheque-card-like cards that can be purchased for 50 cents and are valid for one year, similar to the MTA MetroCard in New York City.
All possible tickets (single ticket, day ticket etc.) can then be loaded onto the respective card. Since this card can easily get damaged, you should retain your receipt after loading it. It will make getting a replacement or refund easier.
The Lisboa Viva Card has more options but is also much more expensive and for that reason only of interest to the locals of Lisbon. It costs 7€ without a credit (as of 2019).
Zapping – simplifying the use of public transport
A multimodal, that is a cooperating, model for payment in Carris (bus, tram) and Metro has been available since November 12th, 2007. It is called "Zapping". "Zapping" allows you to load between 2€ and 15€ onto your "7 Colinas" card or your "Viva Viagem" card.
With a "Zapping" credit on your card you can then go on single rides with Carris (bus, tram, cable car…) or ride the Metro and enjoy a cashless payment option at the Transtejo/Soflusa company. You will receive a 5% discount at the time of loading your card. But that is not all the savings you will see. Compared to purchasing a ticket directly from the bus driver (called "onboard tariff"), you will save 30%, in trams you will pay less than half in this case.
The reason: when you purchase a single ticket directly from the driver, Carris charges a significant surcharge. Thus, many utilize the cashless payment option, and everything moves along much faster.
For Carris (bus, tram) as well as Metro one pays 1.50€ for a single ticket with "Zapping" (as of 2019). You can ride the bus or tram for up to one hour with this ticket. Regarding the Metro, it is valid for one ride in one direction.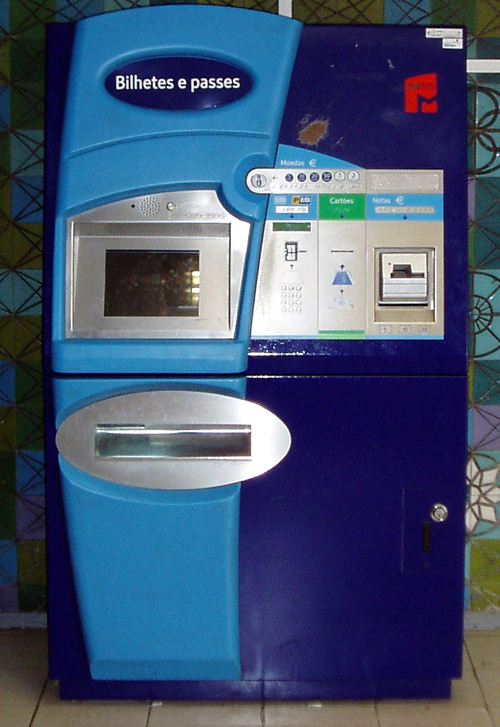 You can also load a day ticket, a 24-hour ticket, onto the "7 Colinas Card" or the "Viva Viagem Card" for example, which is valid for Carris (busses, trams), Metro, as well as the suburban trains to Sintra/Cascais. This day ticket is called "Travelling-all-Lisboa" and costs 10.55€ per person and day currently (as of 2019).
The validity period of this day ticket is 24h beginning at the time of first validation or use in the Metro, bus or tram.
For comparison: An "Onboard" single ticket, i.e. a ticket that you can purchase directly from the driver when you board, costs 2€ on the bus and even more, 3€, on the tram.
Due to a lack of demand, 5-day tickets are no longer being offered. A weekly card is also not available for purchase in Lisbon.
Tips for buying and using the "7 Colinas" card and the "Viva Viagem" card
1) The card can be purchased at a ticket machine (available at every metro station). The machines are bilingual (Portuguese and English). You will find a reference to a counter or kiosk operated by Carris on the "Praca da Figueira" in old travel guides, but it is no longer in service.
Unfortunately, unlike the LisboaCard or LisbonCard (see above) this card cannot be purchased online ahead of time.
2) At the bus and tram entrance, and next to the driver, there is a yellow device on which you will have to prove the validity of your card. The card does not have to be inserted into the device but simply passed by. It also works when you leave your card in your wallet and hold the entire wallet up to the device. You will hear a short sound and a green light will show up if your cashless payment was successful. Should the card no longer be valid, a longer beep sounds and the light turns red.
3) After loading your card, hold on to your receipt and keep it in a safe place. Sometimes the card malfunctions. With the receipt, you'll get a refund.
Metro (subway) Lisbon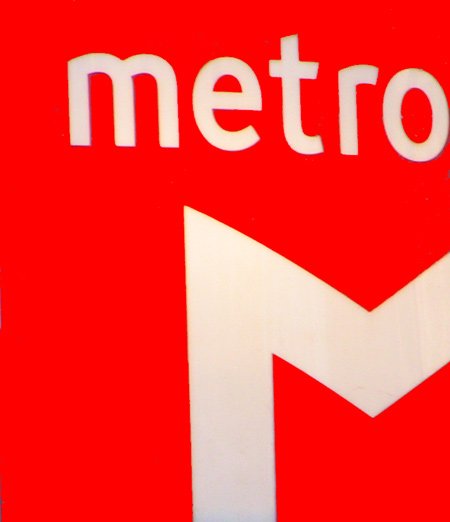 The Metro (subway) allows you to move about fast and regardless of the traffic situation on the streets throughout the city.
Access to the trains or platforms is fully automated via automatic doors.
Only people in possession of a valid ticket can enter and exit again. That means that the ticket is necessary at time of exit as well. Do not throw away your ticket too soon!
For a better overview and your orientation:
Download: city map of Lisbon with public transport route network (*.pdf 1,2 MByte – as of 2019)
Lisbon Metro lines and network
Lisbon has a Metro network with 4 lines. It is the fastest way to cover a long distance, especially during rush hour.
The lines are not numbered, as it's often customary, but color-coded instead. Unfortunately, the network does not cover the entire city of Lisbon. Many districts, especially in the western half of the city (Belém for example) cannot be reached via the Metro
The Lisbon airport Humberto Delgado (IATA: LIS, ICAO: LPPT) has its own Metro station since July 2012 (Aeropuerto) and is served by the red line.
The stations Oriente, Santa Apolónia and Cais do Sodré connect the most important bus and train stations of Lisbon to the Metro network.
The Metro – ideal for sightseeing
Many interesting sights (Expo areal with Oceanarium, Colombo Shopping Mall) are located a good distance from the city but can be reached comfortably via the Metro.
The four lines of the Lisbon Metro
Blue line (Linha Azul) – final station: Amadora Este – Santa Apolónia, 17 Metro stations
Yellow line (Linha Amarela) – final station: Odivelas – Rato, 13 Metro stations
Green line (Linha Verde) – final station: Cais do Sodré – Telheiras, 13 Metro stations
Red line (Linha Vermelha) – final station: São Sebastião – Aeropuerto, 12 Metro stations
For better orientation, a map of the network of the Lisbon Metro can be downloaded here (.jpeg, 280kByte)
Metro Lisbon for people with mobility disabilities – are metro stations barrier free?

This is a question we receive quite often via email from people who are bound to a wheelchair or, for example, are planning on exploring the city with a stroller.
Due to its tight and hilly roads, Lisbon is difficult to navigate for wheelchair users or people with mobility disabilities in general to begin with. Unfortunately, the Metro is not completely barrier free.
The good news: many stations, especially along the new lines, have elevators and are thus accessible to wheelchair users and people with strollers.
You can find an overview here:
Barrier free Metro stations in Lisbon for people with mobility issues (.jpeg, 280kB)
These barrier free stations are marked with a wheelchair symbol. Unfortunately, as I had to experience during my last visit in Lisbon and with a stroller in tow, not all elevators are always in operating condition.
The city buses (omnibuses) of the Carris in Lisbon
The currently 92 bus lines of the Carris are the backbone of the public transport system in Lisbon. They cover almost the entire city and are relatively cheap (see the chapter on pricing and tariffs above).
The city buses are ideal for traveling around the city and to see it at the same time.
The buses also run through many old town districts. If the alleys are too narrow, minibuses are used. The bus fleet is relatively modern. The buses are favored by the locals for just a stop or two, especially in the hilly parts of town, in order to avoid a strenuous hike uphill. For short rides it is practical to purchase a timed ticket (such as the Lisboa card). Then you won't have to think about it much whether you should treat yourself to a ride on the bus or not.
Download: city map of Lisbon with the route network of all bus lines (*.pdf 1,2 MByte – as of 2019)
Eléctrico (tram) in Lisbon
The history of the Lisbon tram dates to the 19th century. At that time, it was drawn by horses. It became more and more important with electrification which lead to the expansion of its network. Until the mid-1940s it was the only mode of local public transport in Lisbon. Only the introduction of buses slowly heralded the decline of the tram. Only 5 lines are in operation today: 12E, 15E, 18E, 25E und 28E.
Important: the tram lines always include the suffix "E", which stands for "Eléctrico". There are some bus lines that have the same numerical but not the letter, and service a different route.
In addition to the historical wagons, there are also modern trams.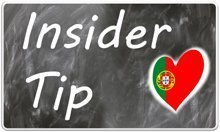 Insider Tip for the Lisbon tram:
Don't miss out on a ride with tram line 28 (in Portuguese: Eléctrico 28).
She drives with the old, historical wagons exclusively through the quarters of the old town and you get to see the most beautiful streets and squares that Lisbon has to offer. It is almost as good as a sightseeing tour and much cheaper to boot.
If you get off at the final stop, "Martim Moniz", you could make your way back to city center on foot. Stopping in at a Café or a Pasteleria along the way, it makes for a very enjoyable walk.
Find more about this under: Sightseeing – How can I explore Lisbon? There are also modern trams in Lisbon… which operate normally on some lines. Line 28E, for example, is ideal for sightseeing since its route is especially interesting.
Special features of the local public transport:
cable cars and a historic elevator
In addition to the classic modes of transport, bus and tram, the Carris, Lisbon's local public transportation company, also operates 3 funiculars (cable cars) as well as one vertical elevator, Elevador de Santa Justa. Those are also part of the public transport system.
The three cable cars in Lisbon (Ascensores de Lisboa) and the vertical elevator Elevador de Santa Justa are also operated by the local public transportation company Carris. They may seem unusual at first glance but are still a regular, everyday mode of transportation
Elevador de Santa Justa
The Elevador de Santa Justa, also called Elevador do Carmo, is a vertical passenger elevator. It was designed by a student of the builder of the Eiffel Tower in Paris, Gustav Eiffel, and transports people from the inner city (Baixa) to the upper city (Chiado).
The price for a 2-person onboard-ticket to ride the historic elevator is 5,15€ currently (2019). Owners of the "Lisboa Card" can use it free of charge.
→ more in this travel guide:
Information & video about the Elevador de Santa Justa
Funiculars – Cable cars of Lisbon (Ascensores)
The history of the funiculars in Lisbon dates to the end of the 19th century. They were used on routes that were too steep for the horse-drawn trams. Technically, they do have their own electric drive. The rope, which is fixed to the carriage, runs between the rails. It serves to balance the load between the wagons that are running up and down. Even then, energy saving was top of mind.  Nowadays, there are three funiculars  in operation:
Ascensor da Lavra, altitude difference 43 m, up to 25,0 % incline
Ascensor da Bica, altitude difference 45 m, up to 19,1 % incline
Ascensor da Glória, altitude difference 48 m, up to 18,0 % incline
Price for a funicular single ride
One 2-person "onboard" ticket to ride on board a cable car is currently (2019) 3,80 €.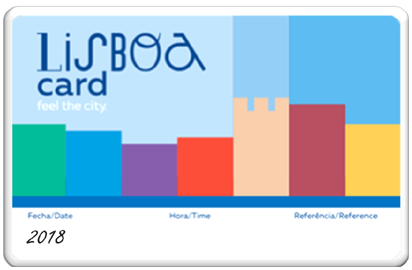 "Lisboa Card" holders can travel as often as they wish and free of charge
For orientation: the cable cars are marked with their own symbol on our map below.
Tip for technology enthusiasts: The "Ascensores" are not taken to the shop for maintenance but inspected under the open sky. With a bit of luck, you just might be able to marvel at the interior works of the cable car.
Ferries in Lisbon – Transtejo
Lisbon is not directly located at the Atlantic coast but on the river Tejo. Since the Tejo or the Tejobay is already 1.6 km wide at its narrowest point, there are two bridges as well as ferries that serve as north-south connection.
→ more information: ferries, docks, routes, and current pricing (2019)
Tips for using public transport in Lisbon
1) The following applies for buses and the old trams (only one wagon most of the time): enter in the front where the driver is – exit in the back! Anyone who does not follow this rule gets called out by the driver.
2) It is not unusual for long lines to form, especially at peak times. In order to not draw attention, behave just like a Portuguese: get in line at the back and wait for your turn patiently.
3) After a ride with the Metro, the ticket is needed to exit the station's platform. Do not throw it away too early!
4) If you are standing at a stop that serves multiple bus and tram lines and you see the right line approaching, wave your arm once. That signals the driver that he needs to stop. Otherwise he would simply continue on if nobody wanted to get off at this stop.
5) If your accommodation is in the center of the city and you want to utilize the public transportation system more often, then a timed card (e.g. unlimited use of public transport and free of charge for 48 hours) may be of interest to you. That saves time purchasing tickets and you can travel a short distance of a stop or two without having to think about it too much and consider its cost. Especially in hilly Lisbon, this can be very pleasant and spare you quite a few meters of steep incline.
More about Lisbon and Portugal in this travel guide