LISBON AIRPORT (LIS, LPPT)
AEROPORTO LISBOA HUMBERTO DELGADO
The Lisbon airport Humberto Delgado (formerly Portela Airport – IATA: LIS, ICAO: LPPT) is the most important hub for Portuguese air traffic. It is located about 8 km from city center and easily accessible.
The closest international airports are Porto Airport to the north, and Faro Airport to the south.

Risk of confusion due to new name
The airport Lisbon wasn't named after the former general, politician, and opponent of the Salazar regime, "Humberto Delgado", until May 15th, 2016. It was called "Portela Airport" prior to that, a name that is being used to this day, thus causing misunderstandings and confusion at times.
For bookings etc., it is best to use the internationally standardized abbreviations for the airport Lisbon: "LIS" or "LPPT".
Terminals at the Lisbon airport: map & change flights
The Lisbon airport has two terminals. Terminal 1 handles most of the scheduled international flights. The shopping area, which was expanded and redesigned in 2013, can also be found here.
Transfer Terminal 1 <-> Terminal 2 – only by bus
Terminal 2 has only been open since 2007 and is mainly responsible for handling budget airlines. It can only be reached via the free-of-charge shuttle bus service. If you change flights at the Lisbon airport, please be aware: the transfer between the terminals alone takes approximately 10 to 15 minutes.
→ For better understanding: plan / map of the Lisbon airport / terminals for download (.pdf, 2.5 MB)
Video: Lisbon Airport in 1 min
The airport is briefly introduced in the video below. You will see the airport buildings, the bus stop for AeroBus (shuttle service etc.), the cab rank in front of the terminal, as well as the tourist information in the airport itself. There you can get more information, free maps of the city and answers to any questions you may have.
Transfer: airport <-> city center & vicinity: our tips
What is the best way to get to and from Lisbon airport?
Many visitors don't ask themselves this question until after arrival. Informing yourself upfront will save time, stress, and money later.
The Lisbon Airport (Aeroporto Humberto Delgado) is well integrated into the Lisbon public transportation system. Due to its central location, you can quickly make your way downtown via public transport, that is, bus, metro (subway), or taxi.
For fast readers, here are our tips for arrival at and departure from the airport, also showing the most popular ways for airport transfers.
More options and pricing (as of 2019) for the transfer airport <-> Downtown Lisbon and vicinity can be found in the paragraph below.
Tip 1: quickly & stress-free from and to the Lisbon airport – pre-booked shuttle service
A tip for all those who want to save time, possible frustration, and all the effort that comes with buying a ticket locally, such as having to wait in line, purchasing public transport tickets etc.
You can book a transfer by car or minibus in advance, via this site for example.
That could be of interest to all who will continue their journey to the surrounding region of Lisbon (for example to Sétubal, Cascais, or other places) or who are traveling in groups.
Transfers, finding your way within the public transport system etc. won't be an issue this way. There also won't be any uncertainties regarding price when you prebook. Riding in a normal cab is often accompanied by "misunderstandings" (see below).
Tip 2: purchase a day ticket for public transport with official sightseeing card in advance – save time and stress later
If you are planning on visiting some of the sights in Lisbon anyway, then the official sightseeing-card "Lisboa Card" will be of interest to you.
You will receive free admission to more than 25 sightseeing highlights (as of 2019) with this card. Additionally, you will receive 10-50% off other entrance fees.
 The free use of public transportation (metro, bus, tram of the Carris) is also included. The Lisboa Card will allow you to take the metro directly from the airport to city center, for example, without having to purchase an extra ticket.
The Lisboa Card is available with different periods of validity (24h, 48h or 72h) – beginning at time of first use.
Convenient: you can purchase this card online, in advance and at no extra cost via this English language website. This way you can inform yourself ahead of time and use the card immediately upon arrival. That saves stress and time later. There are better things to do after a long flight than trying to understand tariff systems and dealing with ticketing machines…

-> Here you will find detailed information about the "Lisboa Card", current pricing, and an advance booking option
Transfer: airport <-> city center via public transport
– metro (subway), AeroBus (shuttle bus)
Here you will find more details on how to get to and from the airport via public transportation.
1
Metro or subway connection to the Lisbon airport: fast & affordable

The Lisbon airport has been connected to the Lisbon metro network since July 17th, 2012. Ever since, the metro has been the easiest and cheapest option for mastering the transfer from the airport to downtown Lisbon.
The red metro line (Linha Vermelha) has been extended by 3.3 km and now includes the new stops "Moscavide", "Encarnação", and  "Aeroporto" (airport).
Compared to the roads and traveling via bus or cab, this created a more predictable connection to the airport which also happens to be cheaper.
The "Aeroporto" metro station was enhanced with caricatures of Portuguese celebrities by the cartoonist António who is very popular in Portugal. Displayed are the Fado-singer Amália Rodrigues, the writers Fernando Pessoa and José Saramago as well as the soccer legend Eusebio.
Important stops and transfer options from and to the airport
One of Lisbon's most important train stations, the "Oriente" station, is located only 3 subway stops away from the airport. In order to get to city center, one must transfer once. Here is an overview with transfer stations and other metro stops, starting point is always "Aeropuerto" (airport) of the red line (Linha Vermelha):
Transfer to the green metro line (Linha Verde) at the metro station "Alameda" for the following destinations:
Baixa Chiado (city center), Rossio (regional train station), Martim Moniz (final station tram line 28)
Transfer to the yellow metro line (Linha Amarela) at the metro stop "Saldanha" for the following destinations:
Picoas, Marques de Pombal, Rato
Transfer to the blue metro line (Linha Azul) for the following destinations:
Parque, Marques de Pombal, Avenida (da Liberdade), Restauradores, Baixa Chiado (city center), Terreiro do Paco (formerly Praca do Comercio), Apolónia (train station)
Operating hours, traveling times, and tickets for the metro to and from the airport
Normal operating hours for the metro: 6.30 AM – 1.00 AM; trains run every 6 to 10 min
Travel time: approximately 5 min to the train station "Oriente" – approx. 20 min Downtown
Tickets: 1.50€ (as of 2019) for a single ticket – if you are planning on using public transport more often, then the "Lisboa Card" could be of interest to you
2
AeroBus: alternative to the metro for the transfer from Lisbon airport –> city center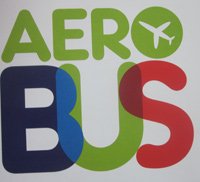 There is a shuttle bus from the airport that makes the transfer to the most important destinations in Lisbon very easy. It is called AeroBus and runs on 2 lines (see below).
The former line 91 of the Carris (public transport company Lisbon) no longer exists. AeroBus' new line 1 stops at the same stop as the old line 91, however.
Line 96 "Aeroshuttle" has also been discontinued. It has been replaced by the new line 2 of the new AeroBus.
→ Detailed city map of Lisbon with route plan of the public transport system (pdf; 1.2 MB)
The bus company Scotturb has also discontinued its shuttle service from Aeroporto Lisboa Humberto Delgado (Lisbon airport) via Estoril to Cascais.
Ticket prices, ticket sales, and departure of the AeroBus (shuttle service) – tip for purchasing tickets stress-free
The shuttle bus stop is located directly in front of the arrival terminal. Tickets can be purchased locally or conveniently in advance online. The latter means less stress after a flight versus having to deal with ticket machines.
An online ticket purchase also comes with a 10% discount (for example: single ticket for adults is 3.50€ – see link above)
The price for a ticket purchased locally is 4€ (as of 2019) for adults and 2€ for children (4-10 years).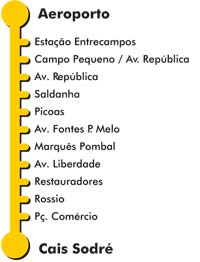 Line 1  of the AeroBus "City Center": stops, schedule
AeroBus line 1 is of interest for all that are planning on traveling from the airport to Lisbon's city center. It travels the same route as the former Carris line 91.
Stops of the AeroBus line 1 "City Center"
Aeroporto (airport Lisbon),  Entrecampos,  Campo Pequeno, Avenida da República, Saldanha, Picoas, Fontes Pereira de Melo, Marquês de Pombal, Praça da Liberdade, Restauradores (Downtown), Rossio (regional train station),  Praça do Comércio and the terminal station Cais do Sodré (regional station for the route to Cascais via Estoril)
Schedule and travel time of the AeroBus line 1 "City Center"
The AeroBus "City Center" has an approx. travel time of 25 min. However, it can easily take longer at peak times. When travelling to the airport you should definitely plan in a time buffer as well.
Schedule (departure airport:  Airport – Cais do Sodré)
On weekdays from 7 AM – 11 PM, every 20 min – starting at 9 PM every 30 min
On weekends and public holidays 7.30 AM – 22.30 PM, every 20 min – starting at 9 PM every 30 min
(schedule departure Cais do Sodré to Airport)
weekdays from 7 AM – 11 PM, every 20 min – beginning at 9 PM every 30 min
weekends and on public holidays 7.45 AM – 11.30 PM, every 20 min – beg. at 9 PM every 30 min
Line 2 of the AeroBus "Financial Center": stops, schedule
Stops of the AeroBus line 2 "Financial Center":
Aeroporto (Lisbon airport), Entrecampos (metro station), Sete Rios (metro station and bus terminal for intercity buses), Praça de Espanha (metro station), Avenida José Malhoa, Avenida José Malhoa (Sul)
Schedule and travel time of the AeroBus line 2 "Financial Center"
schedule (from airport to Avenida José Malhoa Sul)
8.50 AM – 9.50 PM, daily, every 30 min
schedule (from Avenida José Malhoa Sul to airport)
7.00 AM – 11.00 PM, daily, every 30 min
The old line 2 "Oriente" was discontinued since the newly constructed metro line to the airport covers the same route.
Renting a car at the Lisbon Airport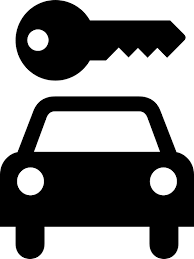 All internationally renowned car rental companies, such as Avis, Europcar, Goldcar, Hertz, Sixt… have a counter or branch office at the airport. In addition, local companies such as Guerin can also be found there.
When it comes to renting cars, be aware of a few tricks that car rental companies employ that could cost you money. You should also consider a few simple things as far as insurance is concerned. Here you will find a brief summary of the most important information and our tips regarding rental cars & traffic laws in Portugal.
Flight delay or cancellation – now what?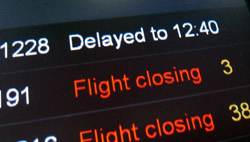 Were you affected by delays, cancellations, or overbooking on your outbound or return flight to Lisbon?
You could be entitled to compensation, up to 3 years after the flight, thanks to EU passenger regulations. As this compensation could amount to several hundred Euros, it is not widely publicized by the airlines.
Claiming the compensation and collecting it is easy.
→Here on our page you will find all the information on compensation you'll need in the event of a delay, cancellation, or overbooking.
Save time & money – tips from frequent flyers
We have summarized 7 tips based on our own experience and on our conversations with frequent fliers that can help you save time and money. From parking at your home airport to ticket purchase, and more.
→ Here you'll find 7 tips from frequent fliers that will save you time & money
Taxis, pricing, and the "Lisbon Taxi Voucher"
Of course, there are taxis waiting for passengers in front of the terminal at "Aeroporto Lisboa Humberto Delgado" (Lisbon airport) 24 hours a day.
Since there is no shortage of cabs in Lisbon, the income of a taxi driver is very low. For that reason, it is not unusual for cab drivers to try to increase the fare with a few tricks. One of the most favorite tricks that cab drivers use is, taking detours. The price for a single ride without luggage (that costs an extra 1.50€ per piece) from the airport to city center is approximately 14€ (as of 2019).
This price can vary of course, depending on traffic, time of the day etc.
→ More information on the topic of  riding a cab in Lisbon
Taxi Voucher – to your destination for a fixed fee
You can buy an official voucher locally, at the tourist information in the airport building. You'll pay a fixed price for a certain route with this voucher and be able to avoid surprises or price discussions at the end of the ride. However, this service costs considerably more most of the time than the price determined by the taximeter, if there's no foul play that is.
Pricing for one voucher starts at 16 Euros for a single trip during the day in zone 1. For a trip on a Sunday or during night time in zone 2, 24.50€ will be due for one voucher (as of 2019).
Report from our online reader Alois K detailing his experience with a taxi voucher for the route city center – airport:
But, as it turned out, the 24€ voucher was twice as much as a standard cab ride Downtown. On our way home, we only paid 11€ from the hotel back to the airport. You should do your due diligence to determine what will be cheaper, otherwise you could experience a failure with the "foolproof taxi voucher" that you can purchase at the tourism counter in the arrival terminal at the airport.
Tourist Information at the Lisbon Airport
A tourist information counter (informação turística) is located on the right-hand side in the reception building. It is easy to find since the airport is not very big.
Other facilities at Lisbon airport
The Lisbon airport has all the facilities you would expect from an international airport (restaurants, newsstands, ATM, shopping area, family restrooms/baby changing rooms…).
Parking at the Aeroporto Lisboa Humberto Delgado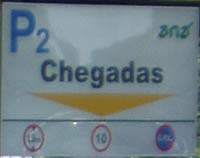 The parking lots P1 and P2 are for short term parking. They are located directly at the terminal. Parking lot P3 is located further out and is thought for travelers that leave their cars parked for longer periods of time. Parking costs less there than at P1 and P2 for that reason. A shuttle bus runs between P3 and the airport. There are plenty of directional signs to the airport as well as the parking lots.
The Aeroporto Lisboa Humberto Delgado (Lisbon airport) is easy to find. It is located on one of the major ring roads of the city (2ª Circular), northeast of the City Center.
Tip: Chegada (pictured right) means arrival
Airlines at Lisbon Airport
Lisbon Airport (Aeroporto de Lisboa) is the home base of the following airlines:
TAP Portugal, Portugália, SATA Internacional, Hi Fly, White, EuroAtlantic, Luzair, Aerocondor, Heliavia, OMNI, NetJets, Vinair
The following airlines also operate at Lisbon airport:
Aer Lingus, Aegean Airlines, Aigle Azur, Air Europa, Air France, Air Malta, Air Memphis, Air Moldova, Air Nostrum, Air Transat, Alitalia, Arkia, Atlas Blue, Austrian Airlines, BRA, British Airways, Bulgaria Air, Centralwings, Continental Airlines (Newark Airport Jersey), Dubrovnik Airline, Easyjet Airlines, Easyjet Switzerland, Eurocypria, Eurowings, Flightline, FlyNiki, Hex'Air, Iberia, Iberworld, KLM, Kras Air, LAM, Lauda Air, LTE, LTU, Lufthansa, Lviv Airlines, Monarch Airlines, Regional Airlines, Royal Air Maroc, SAS Braathens, Spanair (Barcelona El-Prat), SpeedBird, Sterling, Swiss International Airlines, TAAG, TACV, Transavia, Tunisair, Turkish Airlines, Ukraine International, US Airways, Viking Airlines, Virgin Express, Vueling, WindJet
New construction of Lisbon Airport in Alochete
Due to its central location, the current airport is surrounded by buildings. That makes a further expansion of Lisbon Airport impossible.
Therefore, the construction of a new Lisbon Airport has been under consideration for quite some time.
The location of the new airport has already been determined. It is to be built in Alcochete (approx. 25 km southeast of the Portuguese capital). However, construction of the 3 billion- project has been postponed to a future date due to the financial crisis. Tourists and locals alike will have to live with the old Aeroporto Lisboa Humberto Delgado for some time.
The financial crisis or sovereign debt crisis did not leave Lisbon Airport unscathed. The ANA airport operator was sold to the French VINCI group, which also operates the Paris airports among others, in January 2013.
More information about Lisbon in this travel guide